The Ancient and Accepted Rite in New Zealand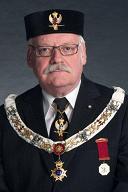 Prof. Brett Delahunt
In New Zealand, the head of the Order (Sovereign Grand Commander) is Prof. Brett Delahunt. 
Application for membership in the Order (sometimes know as the "Rose") is open to Master Masons of 1 year's standing.  Acceptance for membership is subject to the usual Masonic conditions of residence, sponsors, investigation, and ballot. Physical impairment is not a disqualification. Belief in the Holy Trinity is a requirement.
The government of the Ancient and Accepted Rite in New Zealand resides with The Supreme Council 33° which selects and elects its own membership. It is composed of up to 9 Members of the 33°, supported by Inspectors General in each District who manage and support the Chapters.